Published On: 3/8/2023
Ewa Kleczyk, PhD Featured on CIO Views Cover for March – A Memento to Women's History Month & International Women's Day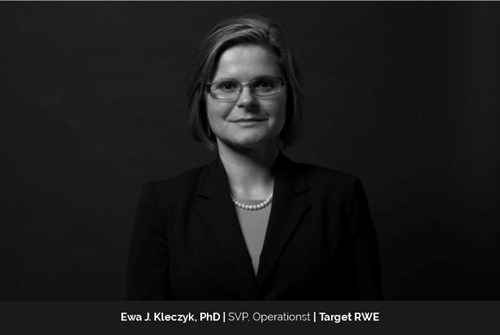 Ewa Kleczyk, PhD, who joined Target RWE as Senior Vice President of Commercial Analytics & Data Curation in 2022, was featured on the cover of CIO Views magazine for their March issue to recognize her tremendous contributions to the field of analytics – especially during Women's History Month and International Women's Day (March 8th).
Over the course of her career, Dr. Kleczyk has built high-performing teams and delivered innovative solutions. She has mentored numerous women in the field – many of whom now hold executive leadership positions themselves – and serves as a role model for aspiring data analysts. At Target RWE, Dr. Kleczyk founded the Women's Network for employees, an ongoing collaborative effort that provides space and support for Target RWE employees to learn from and celebrate their peers. Current industry reports estimate that women working in data science field represent only 20% of the workforce. Contributions from Dr. Kleczyk and Target RWE management have set out to redefine what the landscape of women in healthcare IT looks like. Out of a total headcount of 156 employees, 65% of Target RWE's employees are women; 58% of executive leadership positions and 50% (2 out of 4) of board positions are held by women.
"Ewa brings critical analytics and leadership skill sets to our team at Target RWE. It's clear that her commitment to excellence resonates with our industry colleagues well beyond the walls of Target RWE. We're thrilled that she is being recognized by CIO Views magazine for her contributions, and we congratulate her on this recognition that she so clearly deserves," said Derek Evans, CEO, Target RWE.
Dr. Kleczyk is a sought-after speaker at industry conferences including presentations at Pharmaceutical Marketing Sciences Association, Intellus, DTC Perspectives, CDM Media, Pharmaceutics & Novel Drug Delivery Systems, and Conference for Business and Economics at the Harvard University to name a few. She was recognized at WomenTech Mentor of the Year, Global Awards, 2022, and was a 2022 Women in IT (WIT) finalist for Outstanding Contribution of the Year. The basis of this award was Dr. Kleczyk's pioneering work using advanced machine learning algorithms to identify the drivers of endometriosis, a chronic and often debilitating women's gynecological disorder.
Additionally, Dr. Kleczyk received a Woman of Outstanding Leadership award from the International Women's Leadership Association and most recently was awarded on of the top 25 healthcare technology leaders of Pennsylvania for 2023 by the Healthcare Technology Report.
We caught up with Dr. Kleczyk to discuss the CIO Views cover spot and more.
How did the CIO opportunity come about? Did they contact you? Were you nominated?
 EJK: I was very pleased and surprised when CIO contacted me about the opportunity. It's very humbling to know that a publisher thought my story can be inspirational to young women around the world.
 How often do you speak at major conferences? In terms of speaking opportunities, are there any that you would consider a highlight? Why?
 EJK: I speak at several conferences a year, which provides a great opportunity to share my knowledge and experience in the area of healthcare analytics and leadership. Speaking at the Pharmaceutical Management Science Association's (PMSA) Conference is always a privilege and honor. The conference brings in best and brightest in the healthcare analytics area to network, learn from each other, collaborate, and innovate on analytics applications impacting the healthcare industry. The conference overall provides the opportunity to be inspired by the journey and the future ahead.   
 What led you to the field of data analytics? This International Women's Day, what advice do you have for girls and young women in this fairly male-dominated field?
 EJK:  When I entered analytics nearly 20 years ago, the arena of healthcare data was very much focused on primary market research and analyzing survey data. The experience provided me with a well-rounded background in understanding the premise of research and how data analysis drives the brand strategy and execution. I realized the impact that data analytics in healthcare has on many aspects of healthcare decisions. While I am not a healthcare provider, I have the opportunity to improve patient care. I remind myself daily of the opportunity I have in driving progress.
Being an analytics and operations leader in the healthcare industry has not been an easy journey. This area of business is dominated by male colleagues, and there are few women in the executive leadership positions across the industry. Recently, I was at an industry conference where I was a presenter and realized that I was one of only three women speakers there, with the total number of speakers being north of 30. This fact really struck me as a missed opportunity to promote women advancement and confirmed the simple fact that there are still existing barriers in moving women to the executive leadership positions, or in the promotion of females in the analytics and operations arena. 
My advice to young women wanting to do analytics would be to not be afraid to enter the arena and push themselves to contribute. While it might be challenging at times, women's views, and their perspective on how to apply analytics to a variety of healthcare problems is very important to driving insights needed for providers, pharma companies, payors, and more to make informed decisions regarding improvements in healthcare access as well as diagnostic and treatment process.
You have established yourself as not just a "doer," but a leader in this field. Can you share any advice for young professionals looking to follow in your footsteps?
 EJK: My biggest and proudest accomplishment is building high-performing teams that others want to join and participate in. But even more importantly, I take pride in developing new leaders, and seeing them becoming leaders in their own right. Many of my past employees now hold executive leadership positions, and lead analytics and operational groups. It is very inspiring and rewarding seeing their success.
My advice to young professionals would be to take the initiative wherever possible and say "yes" to new and challenging opportunities. It is not always easy to push yourself to say "yes", and often the received results are not as expected – at least in the short-term. But continually pushing yourself to take on new challenges provides the needed new perspective and help grow. However, saying "no" is often just as important to ensure that one's boundaries are not crossed.  The "yes" here means pushing to better yourself and overcome insecurities and challenges.
You can read the full CIO Views cover story here. To learn more about Target RWE, connect with us here. Target RWE will be celebrating International Women's Day #EmbracingEquity theme throughout the month on LinkedIn and Twitter.
 Dr. Kleczyk earned her Doctorate Degree in Agricultural and Applied Economics from Virginia Tech, Blacksburg, VA, as well as MS in Resource Economics and Policy and BA in Economics from the University of Maine, Orono, Maine.
About Target RWE
As the industry's best-in-class, complete real world evidence (RWE) solution, Target RWE is a distinctly collaborative enterprise that unifies real world data (RWD) sets and advanced RWE analytics in an integrated community, shifting the paradigm in healthcare for how decisions are made to improve lives.
Target RWE sources unique, connected data sets across multiple therapeutic areas representing granular data from diverse patients in academic and community settings. Our rigorous, interactive, and advanced RWE analytics extract deep insights from RWD to answer important questions in healthcare. Target RWE brings together the brightest minds in healthcare through an unmatched community of key opinion leaders, patients, and healthcare stakeholders in a collaborative and dynamic model. www.targetrwe.com
Contact:
Kayla Slake
Marketing Manager
kslake@targetrwe.com
984.234.0268 ext 205